SEO in New Orleans
There are only a few true SEO companies in New Orleans.  Most of what you see if you Google "SEO New Orleans" is Digital Marketing and traditional advertising agencies – that also may have SEO on the menu.
Whats the Difference?
Many Digital Marketing Companies focus on global marketing packages – of which SEO in New Orleans is only a piece of the overall project.  That is not always a terrible thing.
But if you have very competitive keywords, you will find that many of these types of advertising agencies will subcontract the Search Engine Optimization aspect of the project to a true New Orleans SEO company.
Commodities in Digital Marketing
Many of today's modern marketing techniques have become somewhat commodities.  We don't mean that in a disparaging way – but creating of a Facebook ad or Google Pay Per Click ad can be done by just about anyone who has a couple years experience and has some talent in graphic design.  That graphic designer would use their talents across many advertising verticals.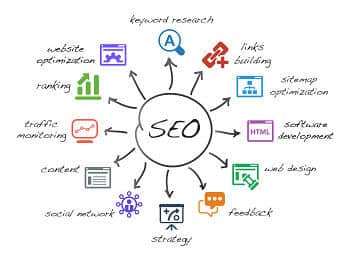 At the end of the day, Google Adwords, Facebook Advertising, Yelp Advertising and the such need a good designer and some experience in each advertising platform.  Anyone that is pretty good at their job would create ads that ultimately perform somewhat similar.
What it boils down to is that although still outside of the realm of a business owner, those types of Digital Marketing have become somewhat commoditized.  SEO on the other hand is a very specific skill set.
SEO is Different
The reason that many marketing companies white label or subcontract the SEO aspect of their full digital marketing campaign is because Search Engine Optimization is a very specialized business.
SEO Agencies are generally not that great at building a website or making things very pretty — what they are good at is having a depth of knowledge in the ever-changing avenue of SEO.
Different Skill-Sets
Many business owners are under the impression that when they have a custom website built, that "SEO can be included".  It is just simply expected by most laymen that if they spend thousands of dollars on a custom built, beautiful website – that it will naturally "rank on Google".  Truth is – website development and SEO are VERY different skill-sets.
There is NO SEO button that can be pressed when building a website.   Although some of the better web designers may go as far as to put meta titles, meta descriptions on the pages – that is about the extent of what they will do from an SEO aspect.
Much More To Be Done
In reality, from the website build perspective, there is quite a bit that can be done to assist with ranking the site.  Here are some of the things that could be done when a website is being designed, that will substantially assist the SEO professional.
It really shouldn't be expected to be done by the web designer, but having the web designer work with an SEO expert will give the best results and save a ton of time in getting the website to rank for the SERPS that matter.
Silo The Site – Siloing the website is using keyword research to create an SEO friendly site structure.  This is a perfect example of why you should t expect a website designer to implement SEO — they wouldn't even have a proper keyword research tool!
Once the keyword research is done, the URL structure of the website should be built using the strongest keywords closer to the root domain.  Each set of keywords create a silo – in which blog posts can be created and fall in line with the URL structure.
Headers –  Some of the most basic of on-page SEO is looking over each page on the site and having a well thought out, strategic layout of H1, H2 and H3 headers.  Although not as important as it once was – headers still assist with ranking a page.
Internal Links – This is a big one.  One of the major aspects of ranking a website is how Google will crawl the site.  Siloing provides a straight forward layout in which Google can understand the differences between each keyword, but the real power comes from utilizing internal linking between the Silod pages and blog posts.
If you look at the graphic above, you should have links run (once again leveraging your keyword research)  from the main domain, to the top of the silo page, to secondary silo'd pages to the blog posts.  Each link should be using specific anchor text  (once again leveraging your keyword research) .
In a perfect world, each silo would ONLY have internal links to other pages within the respective silo.  That can sometimes become a challenge with sidebars, top navigation and footer links — but real SEO guru's have some tricks to make this happen 🙂
The Right Tool For The Job
At the end of the day its important that if you are rolling out a new website, a digital marketing campaign or an SEO project – you should make sure that you are hiring the right person for each phase.  Don't take it for granted that your website designer has any real concept of Search Engine Marketing.
SEO is Ongoing
Search Engine Optimization is not a one-time thing.  Its not a button pressed or some work that gets completed on a specific day.  It is an ongoing process of adjusting to the Google Algorithm updates, Content Marketing, Link Building, Social Media Syndication, On-Page SEO and more,.